Learn More About This Exceptional Woman And Her Far-Ranging Community And Philanthropic Endeavors, Whether With The University Of Pennsylvania, The Rena Rowan Breast Center, The Breast Cancer Research Foundation, Or Rowan House, The First Project Of Rena Rowan Foundation For The Homeless
The Following Are From & © The University Of Pennsylvania Sociologic Winter 2001 (Top Article)
University Of Pennsylvania Almanac Tuesday October 10, 2000 - Vol. 47 No. 7 (2nd Article)
And Other Respective Copyright Holders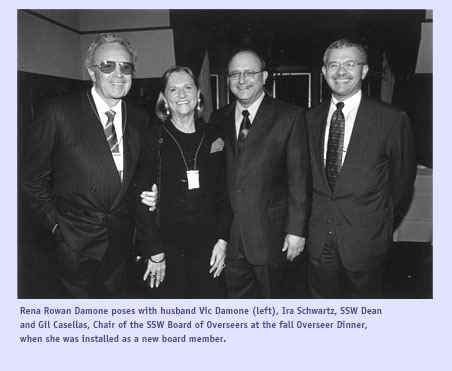 Rena Rowan-Damone, internationally renowned fashion designer and philanthropist, has been appointed to the University of Pennsylvania School of Social Work Board of Overseers for a three-year term.
A native of Poland, Mrs. Rowan-Damone, her mother and sister were separated from their father and exiled to Siberia during World War II. Ms. Rowan married an American officer and came to the U.S. in 1945. After her divorce, she began sewing clothing to support her four children. This led to her entree into the fashion industry.
Ms. Rowan was the Co-Founder & Executive Vice President of Jones of New York (Jones Apparel Group) until 2000. Previously, she was the company's head designer. In 1998 she married Vic Damone and today, she devotes her time and energy to philanthropic pursuits.
In 1997, The Rena Rowan Foundation for the Homeless opened the doors of Rowan House, a transitional living facility for homeless mothers and children. Located in West Philadelphia the 26-unit Rowan House features 24-hour staffing for supportive care, counseling and health care for each family, parenting education and children's classes, on site child care as well as job training and educational opportunities for mothers.
This fall, Mrs. Damone, who is a breast cancer survivor, established the Rena Rowan Breast Center at the University of Pennsylvania Cancer Center. The Center offers comprehensive care for women, including diagnosis and treatment, nutrition, psychological counseling and rehabilitation care. The Center also boasts an on-site boutique featuring prosthetic supplies and cosmetic accessories.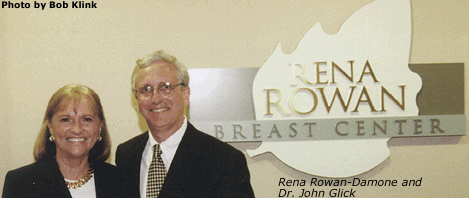 The Rena Rowan Breast Center was dedicated October, 2000. Rena Rowan, internationally recognized fashion designer, business woman, philanthropist, as well as an SSW overseer, christened the 11,000 square foot facility on the 14th floor of the Penn Tower Hotel which is designed specifically to treat and care for women who are diagnosed with breast cancer. The Center officially opened to patients on November 6 2000.
Dr. John Glick, director of the Cancer Center and director of the Abramson Cancer Research Institute, called the creation of the new Center, "an extraordinary milestone in the history of the University of Pennsylvania Cancer Center." He said that its mission is to provide "outstanding integrated, comprehensive and compassionate care, special attention to detail and sensitive treatment in a comfortable, intimate and supportive environment."
President Judith Rodin said she was proud to dedicate this extraordinary facility, especially during Breast Cancer Awareness Month. She presented Ms. Rowan with a citation which noted that, "Her commitment to the realization of the Rena Rowan Breast Center and her dedicated advocacy for the enhancement of women's health serve as inspiration to the multitudes whose lives have been touched by breast cancer."
Dr. Rodin also noted that Penn students have been involved in volunteer service activities to benefit breast cancer patients, including the 5K Rena Rowan Ribbon Run.
Dr. Rodin then thanked the Abramsons for forging a national model with their gift in 1997, creating The Leonard and Madlyn Abramson Family Cancer Research Institute at the Cancer Center (Almanac December 16/23, 1997).
Rena Rowan-Damone, a breast cancer survivor, noted the "wonderful treatment" she had received at the Penn Cancer Center. She said it is very fulfilling to be able to give back to the community considering her difficult beginnings. Born in Poland, she was exiled to Siberia for three years during World War II with her mother and sister, separated from her father who was also deported. After escaping to Tashkent, the family was reunited in Iran, but her father was killed in an accident in 1944. She married an American officer and came to the U.S. in 1945. Her four children were born here; after a divorce she began making clothes for neighbors and friends to earn money to support her family. This brought out her talent and led her to the fashion industry. She had been the EVP of Jones New York until early 2000. Before that she had been the head designer there until 1980. In 1998 she married Vic Damone, and today she devotes her time and energy to helping others.
Dr. Kevin R. Fox, associate professor of hematology-oncology, will be the medical director of the Rowan Breast Center. There will be more than 40 Penn scientists, physicians, nurses, counselors, nutritionists and other health care professionals forming an interdisciplinary team to serve the unique medical, emotional and personal needs of breast cancer patients.
The Center's Breast Cancer Risk Evaluation Program, recognized as one of the foremost in the nation, is directed by renowned expert in the field, Dr. Barbara L. Weber.
The Center will focus on diagnosing and treating breast cancer patients at all stages of their disease. Along with patient exam rooms that reflect Ms. Rowan's creative design, the Center will house eight private chemotherapy suites equipped with home-like comforts such as televisions and CD players for those patients who require five or more hours of chemotherapy treatment.
Another unique feature to the Rena Rowan Breast Center will be an on-site Boutique staffed with experts who will offer advice and guidance on selecting prosthetic supplies and cosmetic accessories such as breast molds, wigs, scarves, and hats.
Additionally, nutrition specialists, rehab instructors and psychological counselors will be available to the patient, making the transition through diagnosis, treatment and survivorship go smoothly. Patient education will be available through the Wellness Center.